Best 3D Printing Software
Best 3d printing software are Meshlabs, Catia, Scupteo, and OnShape. Best 3D printing software will help you understand and design different types of 3D shapes in real-time
Get Free Demo
Connect With Your Personal Advisor
List of
20

Best 3D Printing Software

Showing

1

-

20

of

30

products
Until 31st Mar 2023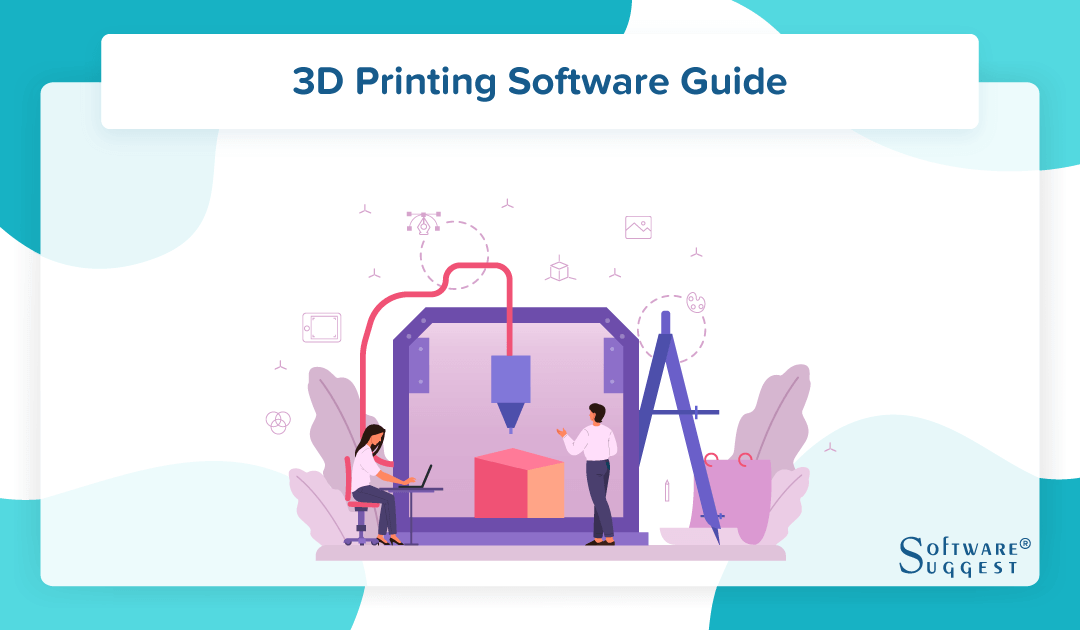 Every 3D print begins as a 3D model generated with the help of modeling programs. These modeling programs are browser-based 3D design applications. The software is like a building block for users who want to develop 3D models using basic shapes. It lets users access the library of millions of shapes and finds shapes that suit them to further manipulate it.
3D printing is sometimes also referred to as additive manufacturing. The software offers feature-rich tools for sculpting, rendering, video editing, animation, simulation, and motion tracking. 3D printing software encompasses a wide variety of products such as slicers, computer-aided manufacturing (CAM), computer-aided design (CAD), design automation, and others.
CAD covers the part where designing, scaling, and features take part, along with a few CAD software such as Autodesk Inventor, Siemens NX, etc. The result of this phase would fetch a 3D digital model. In comparison, CAM takes care of the preparation and manufacturing process. The result of this phase would fetch the real 3D object.
The best 3D printing software should be able to deliver the following things:
Flexibility for a variety of workflows

A reliable process that delivers accurate results with minimal configuration

Optimization of print duration, part strength, and material used

Support for multi extrusion printers

Functional scalability
Role of software in 3D printing workflow no matter what 3D printer user may use is an essential step is preparing a 3D model file first using slicing software (also called slicer). The basic function of the slicer is to slice the 3D file into horizontal layers to make it suitable for the further printing process. Besides this, a slicer can be considered a toolkit capable of performing complex functions to prepare a 3D model for fabrication.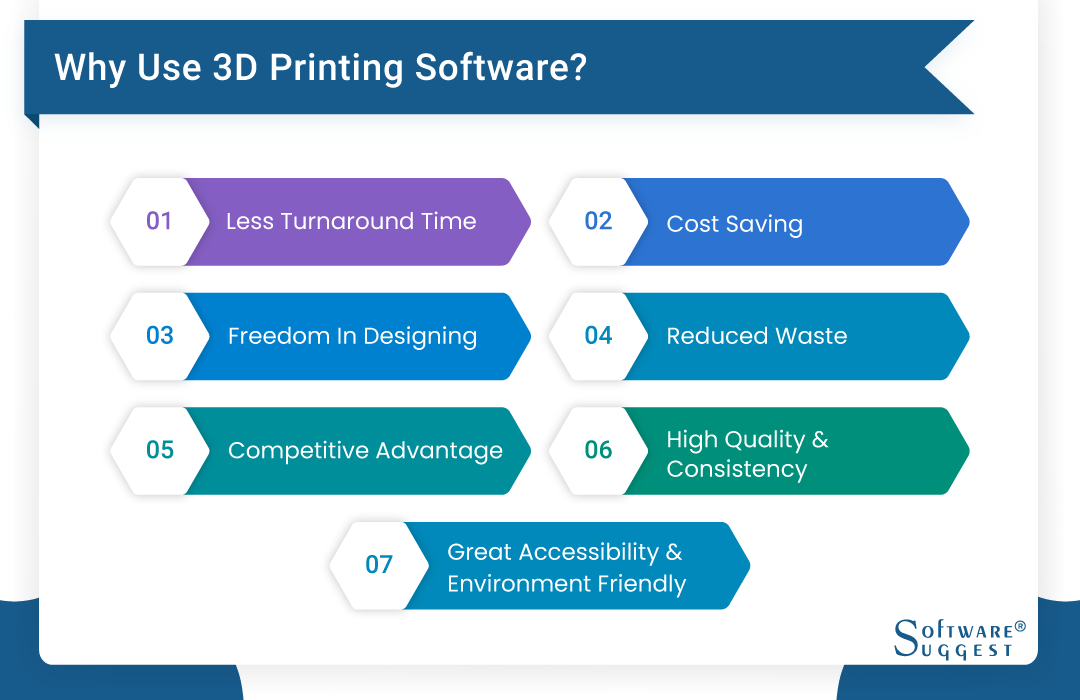 Here are the top benefits of the best 3D printing software that customers must keep in mind while buying it:
1. Less Turnaround Time
Rapid prototyping is the primary benefit of 3D printing software. It enables companies to meet consumer demands in less time. With rapid prototyping, it becomes possible to test the designs created through CAD software and eliminate the errors without actual loss. This takes not more than a couple of days. However, the traditional method takes a couple of weeks.
2. Cost Saving
3D printing is the most cost-effective process. It does not require costly custom-made tools and equipment its working. Companies can easily replace the 3D printing tools without wasting much time and cost.
3. Freedom in Designing
With 3D printing, it becomes possible to create complex geometry easily. This will let you simplify your designs and add more creativity to them. This easy-to-use tool can be used by anyone, even with less experience in CAD. You can create and customize unique designs as per your requirement.
4. Reduced Waste
3D printing uses only the required amount of material for the manufacturing process. Unlike the traditional methods that use large amounts of materials and cut away the major portion of it as waste during the actual process. The 3D printing process reduces waste and saves on the cost of the material.
5. Competitive Advantage
With very less manufacturer to consumer time, 3D printing offers a competitive advantage to the companies. The companies enhance their product and make changes in the product based on the feedback collected from the potential customers. This lets them in saving the time required for future changes in products and cuts down the waste.
6. High Quality and Consistency
3D printing gives high-quality products to companies with its step-by-step designing method. This shows the designers how the 3D printing process is progressing and lets them make changes at that particular step itself. Traditional methods, on the other hand, may result in low-quality designs and poor prototypes.
In manufacturing processes, usually, a bunch of products is manufactured at a time. With the traditional method, there are high chances that the products manufactured can turn defective and inconsistent simultaneously. 3D printing solves this problem. Here parts are manufactured in series and are monitored such that all the errors are eliminated, thereby increasing the consistency of the process.
7. Great Accessibility and Environment Friendly
3D printing does not require high skills and huge experience. Hence, it can be used by a broader range of individuals. Implementing this process is quite easy and cost-friendly. Thus, smaller organizations can also implement it. It becomes more accessible with the automation in its process and requires less monitoring.
3D printing has a low impact on the environment as it does not require high-level energy consumption. It also creates minimal waste, and the best part is the materials are mostly recyclable.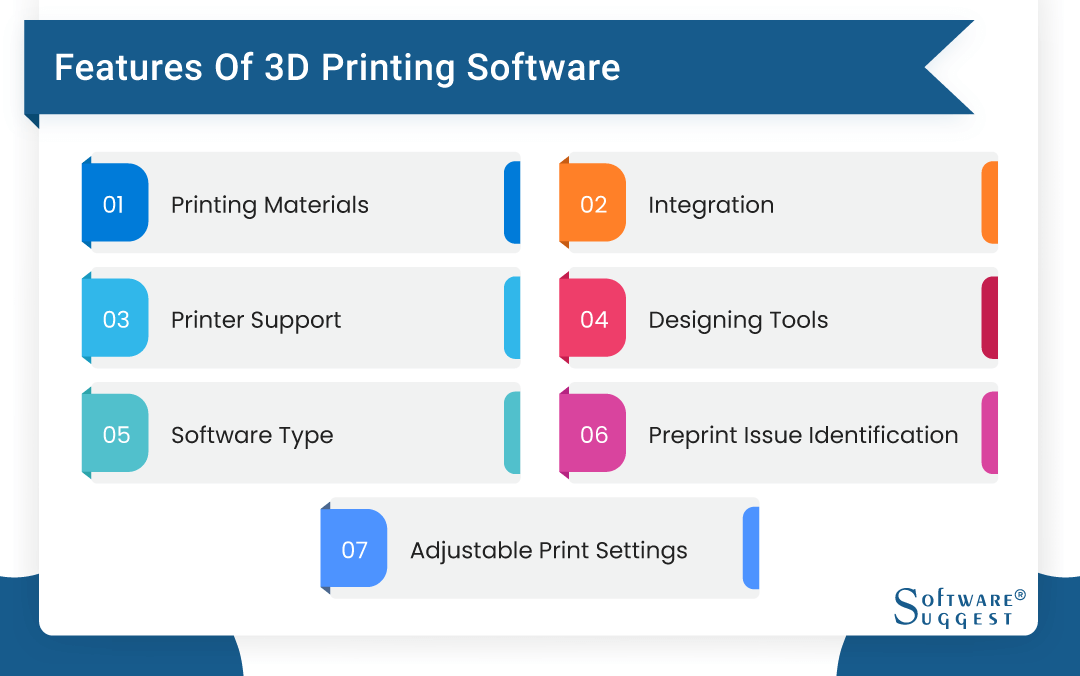 Let's look at the features and attributes of 3d printing software:
1. Printing Materials
The fast and efficient 3D printing software uses various materials for 3D printing. These materials come in different temperature ranges. Different materials include nylon, polycarbonate, PVA, PLA, and the list continues.
2. Integration
The base of a 3D print job is formed of 3D models. 3D printers should be able to communicate with these tools so that data from a 3D modeling software can be accessed and converted into a form that the 3D printer recognizes.
3. Printer Support
3D printing tools should have good compatibility with the range of 3D printers. It is especially important to make sure that the 3D printing software you choose is compatible with the 3D printer you will be using.
4. Designing Tools
The designing tools comprise drawing tools, 3D modeling, visualizing, rendering, and editing tools. With these tools, you can edit the design using 3D printing software.
5. Software Type
This feature gives you the option of software type. The 3D printing software comes in two software types: either you can opt for a cloud-based platform or you can download the application and make the best use of it.
6. Preprint Issue Identification
By running a preprint model, you can get information, including real speeds and series. This ensures you go ahead with the print job only when you are certain that it will be satisfactory.
7. Adjustable Print Settings
With the 3D printing software, you can get variable print settings that can be used for distinct sections of your print. This simple-to-understand setting can be done with a couple of clicks on the software.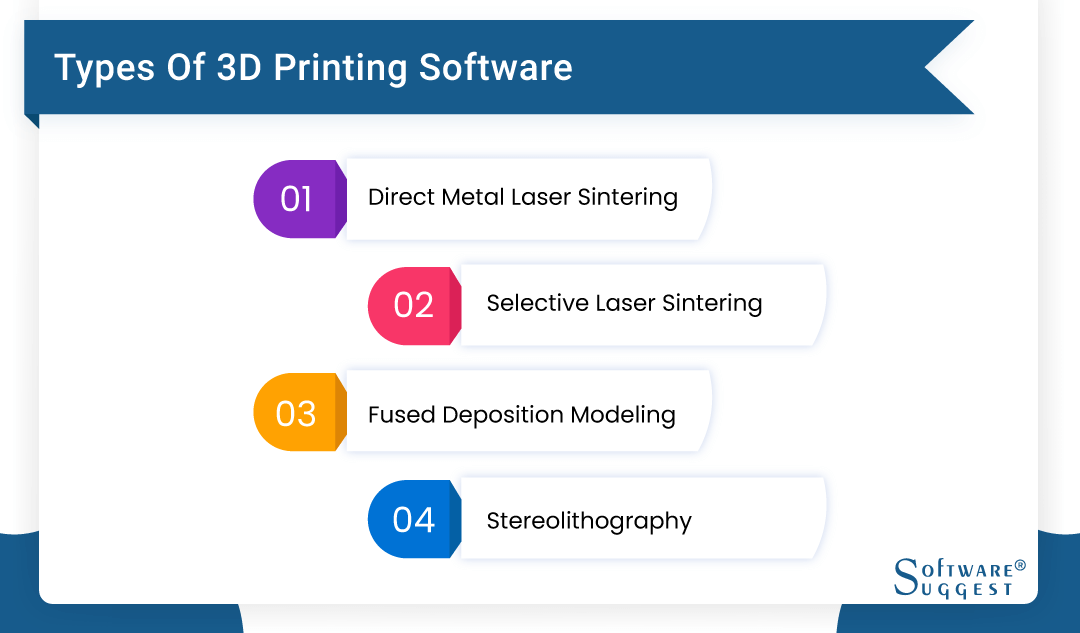 There are various 3D printing solutions developed to build real-life 3D structures and objects. All 3D printing systems have the same result. However, some 3D printing software solutions are prevalent nowadays, and others have fallen by the wayside due to changes in how they print out objects. Below find a list of the most common 3D printer tool used in 3D printing today - stereolithography (SLA), fused deposition modeling (FDM), selective laser sintering (SLS), direct metal laser sintering (DMLS), polyjet or multijet printing (MJP), Inkjet printing, electron beam melting (EBM), laser metal deposition (LMD), laminated object manufacturing (LOM), and digital light processing (DLP). DMLS, SLS, and FDM are the most established and the best 3D printing software widely used in 3D printing technology.
1. Direct Metal Laser Sintering (DMLS)
DMLS is also called direct metal laser melting (DMLM). This method is similar to that of the SLS-based 3D printers; the only difference lies in the materials used. DMLS is used for building metal parts, and SLS is used for printing plastic-based parts. DMLS is used for rapid prototyping and mass production of metal parts such as Inconel, aluminum, stainless steel, and titanium. DMLS-based 3D printing solution is ideal for developing oil and gas components, custom medical guides, consolidated aerospace parts, and difficult functional prototypes.
2. Selective Laser Sintering (SLS)
SLS is a new technology mainly used for rapid prototyping and low-volume production of component parts. The SLS-based 3D printer uses a high-power laser source to sinter small particles of polymer powdered material (nylon or polyamide) to create a solid structure. The common material used for the SLS process is nylon, a lightweight, strong, and flexible engineering thermoplastic that has excellent mechanical properties.
3. Fused Deposition Modeling (FDM)
Fused deposition modeling is also known as fused filament fabrication (FFF), Plastic jet printing (PJP), or filament freeform fabrication. FDM is the most common and widely used printing solution at the consumer level. FDM 3D printing process uses a continuous filament of a thermoplastic material.
4. Stereolithography (SLA)
Stereolithography is also known as stereolithography apparatus, optical fabrication, photo-solidification, or resin printing. Stereolithography is the oldest, most popular, and best 3D printing software used by professionals. SLA uses lasers and mirrors to print out an object layer by layer. SLA 3D printing technology is used for lightweight concept models, prototypes, anatomical models, form and fit studies, architectural models, urethane casting patterns, investment casting patterns, and production parts, as this technology provides a high-quality surface finish.
SLA resin 3D printers could deliver accurate, isotropic, and watertight prototypes and parts with fine features and a smooth surface finish. This is a particularly good option for highly detailed prototypes that needs tight tolerances and smooth surfaces. SLA resin formulation offers a broad range of optical, mechanical, and thermal properties to suit those of standard, engineering, and industrial thermoplastics.
The major companies offering SLA-based 3D printers and services are 3D Systems, Form Labs, Autodesk, and 3D Ceram. SLA-based 3D printer systems are widely used in engineering, product design, short-run manufacturing, dentistry, jewelry prototyping and casting, model making, and education industries.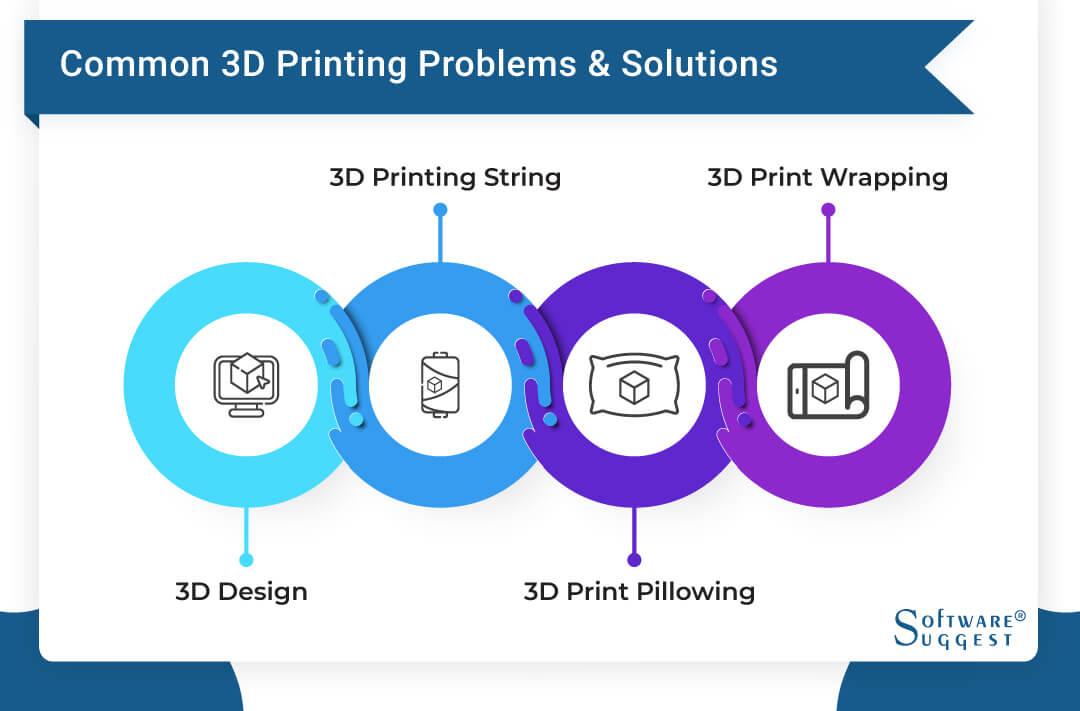 1. 3D Design
Since the 3D industry is evolving rapidly now and then, new kinds of materials are introduced in the industry, but the user needs to understand what kind of material will suit them the best. As 3D printing goals are different, one must know if they want solid or flexible output. Now, based on these goals, one needs to correctly choose their 3D design, or the output can be of totally different quality. Hence, it is suggested to carefully choose the right material and follow design guidelines as it will save a lot of money and time.
2. 3D Printing String
This is one of the most common problems faced by people using 3D printers. In this case, the melted plastic oozes out of the nozzle while printing the object. The oozed-out plastic solidifies, and it is difficult to get rid of it. Users can overcome this problem by enabling retraction. When we do this, the filament inside the nozzle is pulled back and stopped from moving. Also, increasing the retraction speed will decrease the chances of stringing.
3. 3D Print Wrapping

:
This occurs when deposited material starts cooling during the printing process. Such untimely and uneven cooling causes the parts to deform, resulting in a defective object as output. To avoid this issue, heated print beds are used, due to which the time increases for the layers to cool down when it is deposited, saving filaments from wrapping. Another idea is to build surface adhesion; it will help with other filaments.
4. 3D Print Pillowing:
This occurs on the object that is printed with a 3D printer. The object has holes and deformities formed on its topmost layer. This occurs due to improper cooling as the top layer fails to get enough cool air. To overcome this, one must set a thick topmost layer and adjust cooling.
3D printing software has become one of the popular software in the industry. Every size of business is implementing this software. But selecting the best 3D printing software out of a number of options available can be a tedious task. Considering this, we have listed the top 3D printing software that beginners can implement.
1. 3D Slash
3D Slash is an open-source and easy-to-use 3D printing tool. Unlike other software, it is a logo and 3D text maker. With its simple features, you can quickly make the best use of it as a beginner.
2. TinkerCAD
TinkerCAD is CAD software that can be used online for 3D printing. Once an account is created, you get access to all the apps that you need to start your 3D printing process.
3. Meshmixer
This is a free tool with numerous features that can edit, fix, and sculpt your 3D design, which can always be a great choice for beginners.
4. Cura
Cura is the user-friendly slicing software for 3D Printers. It exports files that can be easily understood by 3D printers along with its support for Windows, Mac, and Linux.
5. MeshLab
MeshLab is free software that can transform 3D meshes. It is best used for 3D alignment, reconstruction and supports Android and iOS.
6. Craftware
This wonderful software designed by CraftUnique is a slicer software and supports CraftBot 3D printer. Any 3D printer accepting G-code can use it. With its simple UI, it becomes one of the best 3D printing software for beginners.
7. OctoPrint
OctoPrint is a robust and free 3D printing tool that comes with remote monitoring of designs and customizable UI. It is compatible with all the 3D printers and can be good for beginning your 3D printing.
1.

Autodesk Fusion 360
Autodesk Fusion 360 is a cutting-edge 3D printing software that provides cloud-based 3D CAM, CAD, and CAE functionalities for product development. The software integrates mechanical & industrial design, simulation, collaboration, and machining on one platform. It is a one-stop solution for all product design and development processes. Fusion 360 synchronizes bidirectional modifications from electronic designs using EAGLE interoperability. It uses cloud credits to develop and analyze multiple tests without the need for expensive hardware. Fusion 360 is used by product designers, mechanical and electrical engineers, and machinists.
2. Autodesk AutoCAD
AutoCAD is a very versatile and amazing 3D printing tool most suitable for professional users who have extensive experience in programming models. It has a lot of capabilities to create detailed 3D models. It can easily convert 3D models into STL files for an efficient 3D printing system. AutoCAD includes the latest edition of DWG file format for the effective drafting of files across various formats. The user can easily modify and create robust mechanical designs for a 3D printing solution.
3. FreeCAD
FreeCAD is an open-source 3D modeling tool that can be used for a wide array of applications such as architecture and mechanical engineering. It offers excellent capabilities to design real-life designs of any shape and size and provides related components to make 3D model editing easier and more efficient. You can use FreeCAD as an efficient 3D printing training tool.
4. Creo
Creo by Parametric Technology Corporation offers excellent capabilities to design, simulate, and print 3D models expeditiously through modeling, surfacing, finite element analysis, and tooling abilities. It is one of the best 3D printing software that has amazing functionalities such as motion, structural, and thermal, etc. Creo comes with the best topology optimization technologies and offers multiple tools to create stunning designs for designers.
5. Solidworks
Solidworks developed by Dassault Systemes offers a wide range of tools to efficiently design 3D models for industrial purposes. Solidworks software offers several detailed and unique features that allow 3D professionals to create innovative and reliable designs.
6. Blender
Blender is an open-source 3D animation and modeling software that is simple to use, configures quickly, and works efficiently. Blender provides supports to the 3D pipeline, modeling, animation, simulation, rendering, motion tracking, video editing, and game creation. Blender app offers a vast range of plug-ins for making different forms of templates, simulations, animations, etc.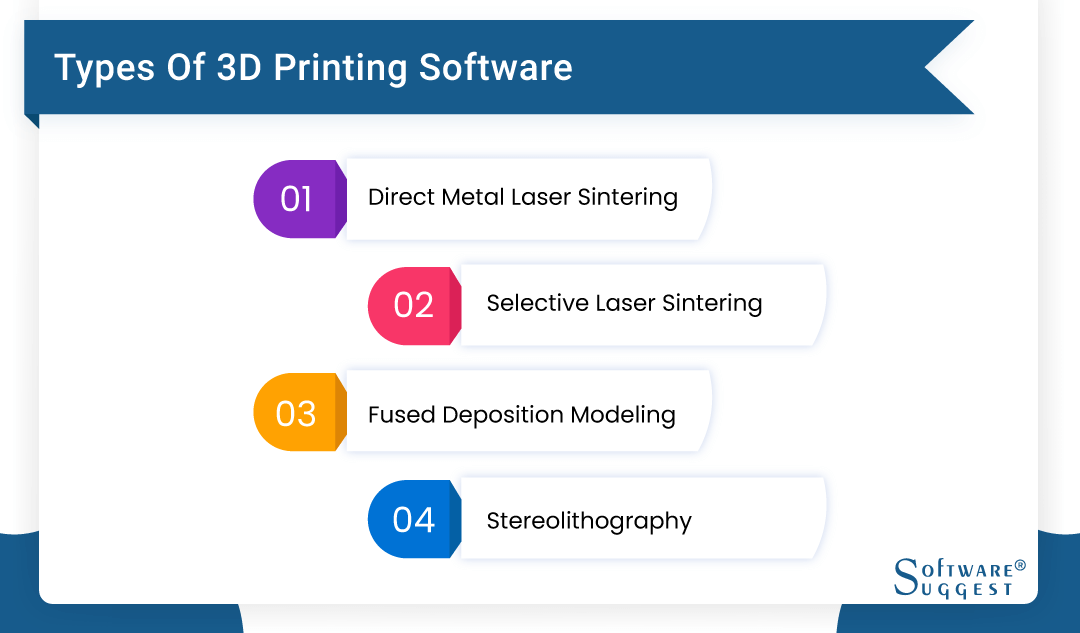 For setting up 3D printing software, few things must be ensured.
3D printing requires a balance between slicing settings and material properties. A designer must work with these constraints to be able to create a proper digital model. The following must be taken into consideration during the setup process:
First, to install and configure the software, a few series of steps must be followed.
The 3D file (STL, OBJ, or 3MF), exported from CAD 3D modeling software to 3D printing software (also called slicer), comes into the picture. In the printer settings, adjust the depth and width (increase it), for example, from 220mm to 235mm.
Then need to put it on the virtual print bed. The toolbox will open where the dimension can be increased or decreased, or the object can be rotated.
Geometry: While giving an FFF print, geometry becomes more crucial because geometrically complex parts need adhesion structures or support material. These additional materials can be created with the help of slicer software.

Slicing Setting: There are two common settings here.

Overhangs and Support: Fused Filament Fabrication (FFF) printing is a bottom-up process, which means each layer is supported by a layer underneath it. Support material is used if an object has an extended part.

Adhesion: This is an important part as it gives the 3D object the support it requires. The most used method is called a brim – it prints an additional border.

Thickness: The thickness of the wall must be specified before printing; one must keep in mind that the wall thickness of the object must be greater than the nozzle being used in the printing process.

Layer Height: The thickness of each layer is known as layer height. Thicker layer height will reduce the resolution and the print time, whereas the thinner layer produces sharper resolution but extends the printing time.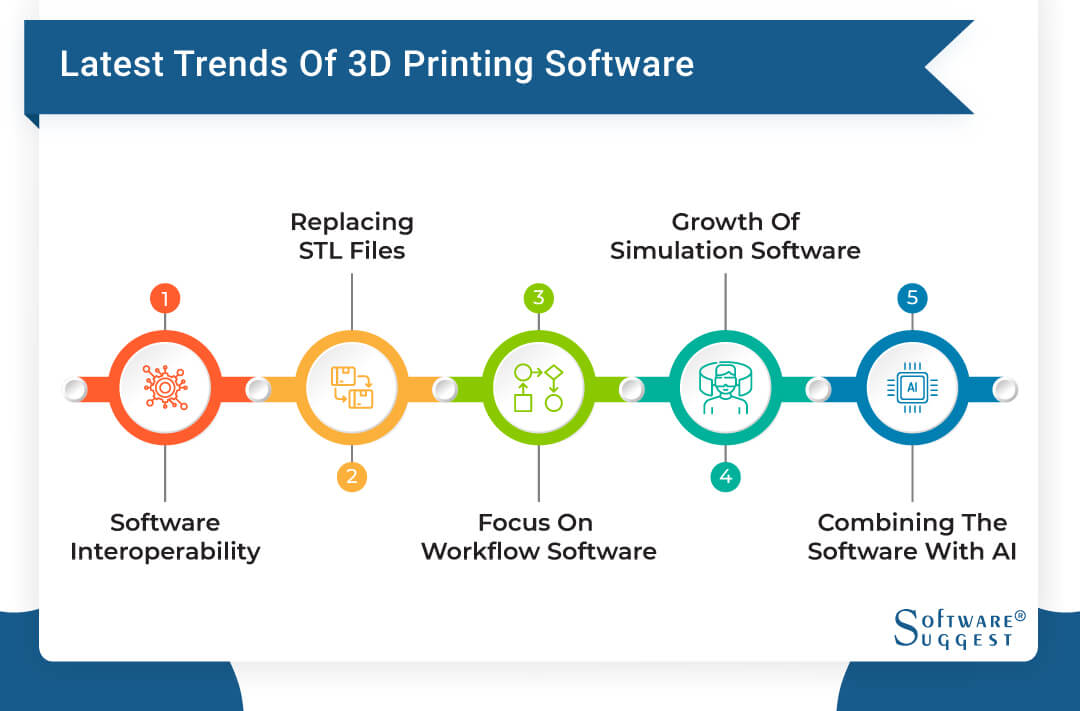 1. Software Interoperability
As we move toward a faster and easier design preparation workflow, we need greater software integration. Interoperability helps reduce the number of tools and steps and efforts needed in designing a model. Now, this is happening in multiple ways such as software integration, acquisition, or development of capabilities internally.
2. Replacing STL files
STL files were invented in the mid-1980s, which enabled CAD software to transit files to prints 3D objects. These STL files are a little difficult to use because they have many limitations such as unable to accurately define large and complex geometric shapes. The format does not specify color, texture, and many others. Hence, the introduction of 3MF, an open-source 3D file format, was quite a relief for users.
3. Focus on workflow software
Workflow management software has witnessed tremendous growth and helps overcome workflow inefficiencies.
4. Growth of simulation software
It is an excellent choice for minimizing the print failures that happen in later stages. It is used at the design stage to digitally reproduce how a material would behave during the printing process.
5. Combining the software with AI
This integration would further enhance the design and workflow process on the design front itself. AI gives engineers the option to explore unexpected design options.
The research report on the 3D printing software market talks about a market overview and an in-depth study of how the market will grow in the near future. The 3D printing market is also segmented based on its offering, process, application, end-user, and geographical location.
A complete SWOT analysis of the 3D printing market is done to understand its growth factors, restraints, opportunities, and challenges. The market is strategically analyzed, depending on its market trends and recent development in 3D printing. With the identification of newer opportunities in the market, companies can enhance their strategies and products to gain a competitive advantage. Also, the good impact of 3d printing software on supply areas.The entire 3D printing market is studied, covering demand and supply areas.
The supply side of the 3D printing market covers the market based on its offering, process, technology, and application. Offering includes a printer, material, software, and service. The process covers powder bed fusion, material extrusion, material jetting, binder jetting, sheet lamination, etc. Technology includes stereolithography, fused deposition modeling, selective laser sintering, inkjet printing, direct metal laser sintering, and multijet printing. The application includes prototyping, functional part manufacturing, and tooling. The demand side is analyzed based on end-users and regions. Various end-users comprise industrial, healthcare, consumer, automotive, education, jewelry, food, and many more. Geographical regions cover North America, Europe, APAC, and RoW.
The research report on 3D printing software includes a competitive landscape that briefly summarizes the leading players in the 3D printing market. All the growth strategies of the organization are discussed in this part. The strategies are divided into Organic and Inorganic strategies, wherein organic covers product launches/developments and expansions, inorganic covers mergers/acquisitions, and partnerships/agreements/collaborations. In this section, companies are rated based on their technological expertise, product offering, market share contribution, target market, and mergers & acquisitions.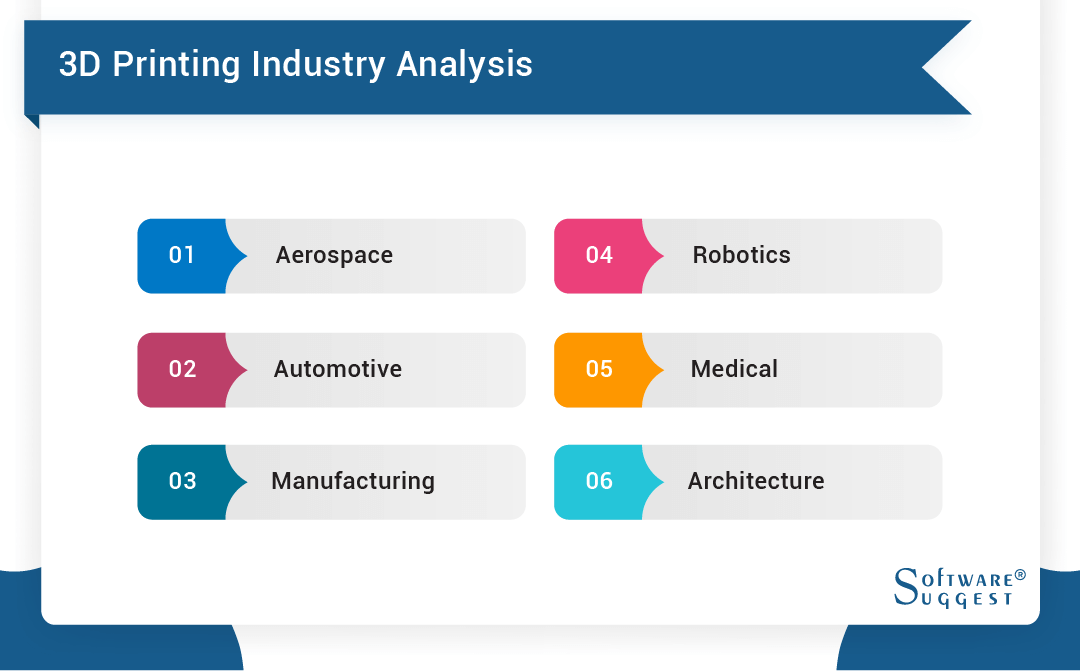 The global 3D printing market size was valued at USD 13.78 billion in 2020 is expected to grow at the rate of CAGR of 21%. Following are the industries where 3D printing is widely used:
Aerospace: This industry expects the highest standards in part performance. The parts must be able to withstand high temperature and chemical resistance. Part failure often results in system failure, which is not an option.

Automotive: This is one industry that has been ahead in using additive manufacturing. For example, Audi has been using 3D printing for many years. The most common printed parts by automotive manufactures are cradles, fixtures, and prototypes, which are supposed to be stiff and durable.

Manufacturing: 3D printing is giving the manufacturing industry an opportunity to create customized low-volume tooling and fixtures at the traditional price.

Robotics: 3D printing is useful for making parts like grippers and sensor mounts, which are expensive to fabricate.

Medical: This industry has been using 3D printing in several ways possible for many years. For example, dentists use 3D scanners to get a 3D print of their patient's jaw. Dentists produce 3D printed braces, aligners, dentures, and other things as well. Doctors and engineers had also developed knee replacements.

Architecture: From preparing a 3D model to an actual house, 3D printing is extremely useful for this industry. It gives architects a better opportunity to make their clients understand the space they are about to purchase.
FAQs of 3D Printing Software
3D printing software is a tool that helps designers to design any model in 3 dimensions using a plethora of CAD tools before the print is sent to a 3D printer.
3D printing software helps configure settings required for printing 3D objects. It helps convert the CAD model into a suitable file format for further processing.
To choose the best 3D printing software, a user must focus on the following features:
• Flexibility with a wide range of workflows
• Ability to customize settings according to usage
• Ability to integrate with other software across the industry for a smooth workflow
• Scalability, so as to handle increasing volumes easily
3D design software integrates good hardware, materials, and advanced software. The best 3D printing software must be utilized to efficiently print 3D objects, and must offer the following benefits:
• A centralized platform for various functions, even letting the user print a specific part of a product without having to order from elsewhere.
• Helping manage costs, including logistics, as all parts can be produced in one place.
• Reducing wastage by printing only those parts that are needed as the final output.
Although efficient, 3D printing is a little complicated to operate. It needs a high power supply, special equipment, and skilled labor to operate. The STL file used in 3D printing software also has some issues; for instance, it does not show the texture or material being used and can also create problems while transferring large files.
Anything with a digital component requires programming. But on the one hand, you need programming to implement 3D graphics in the software and program the printer itself. But to use and operate 3D printing software, programming skills are not required.
The 3D printer software is available starting from $500 to $15,000, depending on multiple factors. The scale of your project also affects the price of your software. There are many free, open-source software identical available, but there is a lack of professional support, object libraries, and support for multiple printers or materials.